You all saw the IPCC report. We have to move faster to Get to Zero greenhouse gas emissions. We must move faster. The good news is that the technology is now here to Get to Zero.
This was not always the case.
Decades ago, when I was assisting the federal programs supporting cutting-edge climate tech and innovation, I felt momentous hope for progress. For example, I first saw an electric vehicle prototype in 1992, while I was helping launch the Environmental Protection Agency's first Clean Air Marketplace conference. I thought it would be on the streets and in my neighbors' driveways in no time.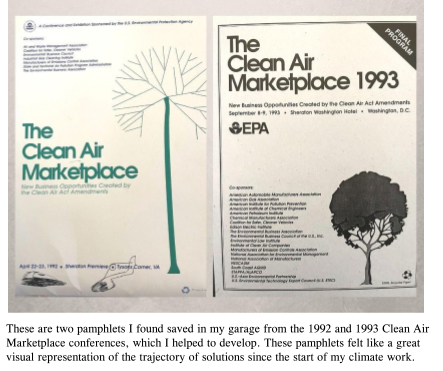 But the reality was that clean energy technology was still quite early stage and limited.
Later while launching Cleantech For Obama in 2007 and helping start or seed-fund clean energy companies like Opower and Clean Power Finance, I saw firsthand innovations in renewables, energy efficiency and new business models like "zero-money-down solar." Through these innovations, and forward-thinking policy, the cost of solar went down 90% in 10 years. California led the way with the Renewable Portfolio Standard requiring an ever-increasing percent of clean energy and the Million Solar Roofs initiative that set goals and policy and enabled California to reach 1 million solar roofs in 2018.
We have made significant progress — in many ways doing things unimaginable only a few years ago, but it is unfortunately proving to be not enough. Yet, I still lean into that spirit I felt decades ago in 1992 because we know that Getting to Zero emissions is not only feasible, but also achievable without debilitating cost increases.
This is no longer a technology problem. It is now primarily a policy problem. California needs to require the deployment of the climate solutions we already have and to create the right policy framework we need so entrepreneurs can keep innovating to lower the costs for zero-emission vehicles, building decarbonization, low-carbon cement, offshore wind, geothermal energy, long-duration energy storage, and more.
This framework needs to be bold. Our planet is on fire. All models show climate change is happening faster than projected. The march toward climate solutions isn't keeping up with the ravaging speeds of climate change. We need to reflect that urgency with more momentum at the local level, state level, and national level.
We are going to have some big wins in the California Legislature this year. But we need to do more to Get to Zero, I need to do more. That's what this blog is about. This blog is my thoughts on how we Get to Zero. It is meant to be wonky and at times technical (but hopefully readable).
I'm indebted to my expert team, especially Ken Branson, Helen Wolter, Jo Gardias, and Leslie Guevarra, and to my friends and colleagues, old and new, who have been fighting the fight and who will be joining us to push the Legislature to move faster to Get to Zero.
###