Stay Informed
01-15-2020 Caltrans Begins Second Phase of San Mateo 101 Express Lanes Project.
Construction from Whipple Avenue to Interstate 380 (I-380) is starting soon. To sign up for weekly or quarterly updates, email with the subject line 'Weekly' or 'Quarterly' to 101express@dot.ca.gov. Follow the project on Twitter @CaltransD4.
Existing carpool lanes will be converted to express lanes between the Santa Clara County line and Whipple Avenue (blue solid line) and express lanes will be built between Whipple Avenue and I-380 (red stripped line). This will result in 22 miles of express lanes in each direction.
Scroll down to read project information about construction, project contact information and frequently asked questions.
The San Mateo 101 Express Lanes Project is a multi-year, multi-agency project initiated to reduce traffic congestion and encourage carpooling and transit use on U.S. 101 in San Mateo County.
The project will create 22 miles of express lanes on U.S.101 from the San Mateo County/Santa Clara County border to I-380 in San Bruno. The San Mateo 101 Express Lanes will then seamlessly connect to the express lanes being constructed in Santa Clara County.
Travel speeds in the new express lanes are planned to operate at 45 miles per hour or higher, creating faster and more predictable travel for those using the lanes.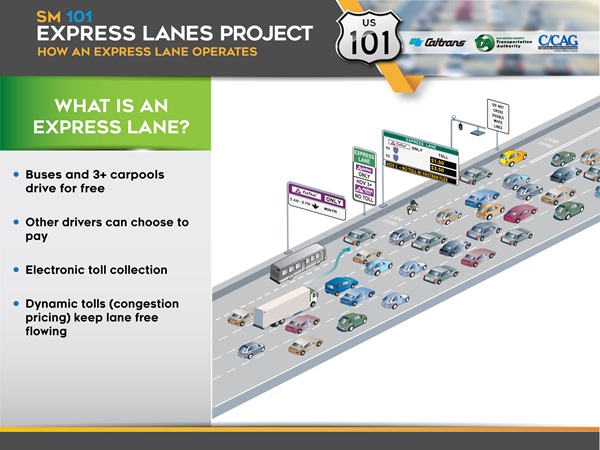 Key Project Benefits
Encourages carpooling and transit use
Improves travel time and reliability for all express lane users
Increases the total number of people moved on the road
Uses technology to manage traffic flows
Reduces congestion in the corridor
Upgrades pavement and lane re-striping
Upcoming project construction to add a lane from Whipple Avenue to I-380 on U.S. 101 will begin in early February 2020 and last through summer of 2022.
Plan for delays and nightly lane closures:
Starting in February 2020, Caltrans will implement freeway lane closures Sunday-Thursday nights. In order to maximize efficiency of construction Caltrans is starting construction that requires lane closures Sunday through Thursday night at 9 p.m. instead of 10 p.m., which was the start time for the construction on the project south of Whipple Avenue. By allowing for more time each night, Caltrans estimates the project will be done six months earlier and at a savings of $40 million over a 10 p.m. start time.
To reduce congestion during extended work hours and nighttime closures, Caltrans will implement a Smart Work Zone system, which uses electronic message signs to alert motorists of changing traffic conditions.
The Smart Traffic System uses loops detectors embedded in the pavement to monitor traffic volumes and speeds downstream of the message signs set up in the construction zone. Traffic information will be posted on this side of the road message signs, informing motorists about upcoming slowdowns, incidents or other issues well before they are visible, providing drivers extra time to react to changing conditions. More information will be available as construction nears.
Recent Updates:
December 2019
For questions during construction, contact the Caltrans Public Information Officer:
Alejandro Lopez at (510) 286-4948 or 101express@dot.ca.gov.
To sign up for weekly or quarterly updates, email with the subject line 'Weekly' or 'Quarterly' to 101express@dot.ca.gov.
Where can I get more information?
You can download the project fact sheet, Final Environmental Impact Report/Environmental Assessment, and other project documents at San Mateo County Transportation Authority's documents page.